HUGE BONUS! Not only does this item ship free, but if you order 3 or more, you get them even cheaper! Use coupon code "cuddle" and your entire order will ship FREE. So load up your cart with all kinds of deals from here and pets.13deals.com
(
Please note
that we will select a style at random for you. If you have a preference, note it when checking out and we will TRY our best. If you order multiples we will automatically give you different styles unless you note otherwise.)
You may have seen these cute little guys on TV! Bring your child(or you!) the joy, comfort and friendship of a soft and gentle Cuddlee Pet! Made of soft lavender plush, Cuddlee Pets serve as both a stuffed animal and pillow, making nap time relaxing and fun for your child.
Cuddlee Pets are excellent companions for long trips or vacations and always provide kids with a cuddly buddy and a comfortable place to lay their head.
Product Features
* Perfect for everyone 3+
Please note you will receive 1 (one) pet pillow per order.
* Machine washable fluff dry
* Made of soft lavender plush
* Extra snuggly
* Open the Velcro closure to use as a pillow
* Close the Velcro closure and enjoy the softest pet ever
* Great for travel
* Stuffed animal dimensions 15 x 6 x 7 inches
* Pillow dimensions 15 x 15 x 3 inches
* Conforms to ASTN and EN71 regulations
Cuddle Pet Pillow Soft Plush Pet Pillows. The Comfort and companionship of a soft, cuddly stuffed animal. Made of high quality, super soft chenille. An ideal nap time companion, and its a comforting partner on road trips or air planes. Stuffed Animal Size is 15x6x7 and Pillow Dimensions is 15x15x3 inches.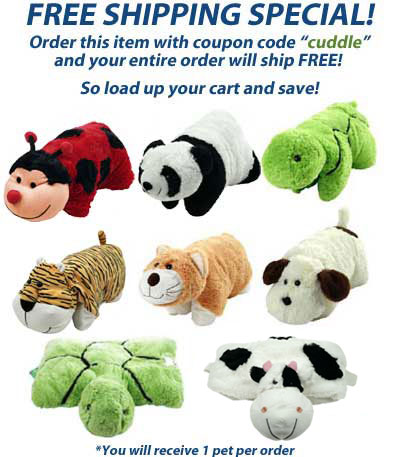 Check it out
HERE