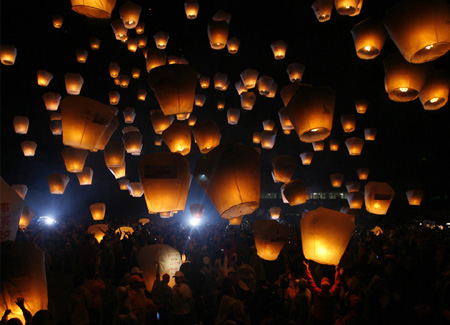 The max is 10 today, but if you wish to buy more than that, you can either place separate orders or give us a call and we can help you out
These are so much fun! We couldn't help ourselves and tested these out after work this week. They are so much fun!
Set off Sky Lanterns singly or in groups for a breath taking view and lots of fun. Sky Lanterns are safe because they are made from flame resistant paper. You don't need to worry about them coming back down while they are still on fire because as long as the fire is burning it is heating the air inside. As long as the air inside is hot they will keep going up. When the Sky Lantern has burned out it will gently float back to the ground. Sky Lanterns are made from rice paper and bamboo so they are completely biodegradable.
Please note that this item comes in an assortment of colors. We will select the color at random for you. Most will be white. If you prefer to receive colored, please place that in the comments and we will do our best for you.

Features:
100% biodegradable
Flame retardant
Dimensions app 15" x 22.5" x 40.5"
Each unit includes 1 sky lantern of random color - Most will be white
Get it
HERE